OTDA Home About OTDA News & Public Information Press Releases Press Release
OTDA Helps Open New Youth Shelter in Poughkeepsie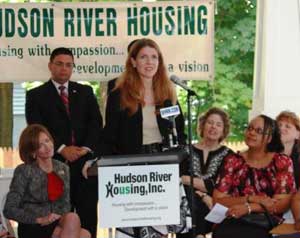 July 7, 2011 - The State Office of Temporary and Disability Assistance (OTDA) took part in a recent ribbon-cutting ceremony to help celebrate the opening of Hudson River Housing's new youth shelter in Poughkeepsie. OTDA Executive Deputy Commissioner Elizabeth Berlin joined federal, state and local officials in speaking at the event.
The new River Haven Youth Shelter was built with $896,900 from OTDA's Homeless Housing and Assistance Program (HHAP). The facility includes 12 emergency beds and one unit for a teen parent with up to two children.
"Youth will not only have a place to stay, but a state-of-the-art facility that will also provide vital support services to help them develop the skills necessary to overcome the difficulties they face," Berlin said. "This project fits right in with OTDA's mission: to provide supports and services to New York's most vulnerable residents and help them on a path to self-sufficiency."
HHAP was the first program in the country to target substantial financial resources for the development of homeless housing. Since the inception of HHAP, New York State has led the nation in the advancement of the idea that more than bricks and mortar is needed to humanely provide housing for the more vulnerable members of society.