OTDA Home About OTDA News & Public Information Press Releases Press Release
OTDA Housing Bureau Garners Recognition for Commitment to Supportive Housing, Helping Homeless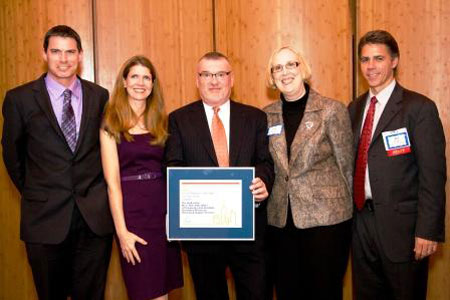 OTDA's Brett Hebner, Elizabeth Berlin, Scott Edwards and Linda Glassman (L-R), with SHNNY Executive Director Ted Houghton.
November 8, 2011 - The State Office of Temporary and Disability Assistance (OTDA) and its Bureau of Housing and Support Services was recently honored as "Government Partner of the Year," by the Supportive Housing Network of New York (SHNNY) for the agency's long commitment to supportive housing and efforts to eradicate homelessness.
SHNNY cited OTDA's Homeless Housing and Assistance Program (HHAP), which has invested $788.5 million to create more than 14,000 units of supportive housing for homeless families and individuals since its inception in 1983. The group also recognized the housing bureau's staff, "best known for its seemingly inexhaustible energy helping nonprofits along every step of the development process."
The Supportive Housing Network of New York is a nonprofit membership organization which represents more than 200 nonprofits that develop and operate supportive housing.
Accepting the award at an a recent event in New York City were OTDA Executive Deputy Commissioner Elizabeth Berlin, Deputy Commissioner Linda Glassman, Bureau of Housing and Support Services Director Scott Edwards and Assistance Director Brett Hebner.