OTDA Home About OTDA News & Public Information Press Releases Press Release
New York State Anti-Human Trafficking Officials Host Their Japanese Counterparts in New York City
Meeting Aims to Build International Cooperation to Combat Human Trafficking of an Estimated 27 Million People Worldwide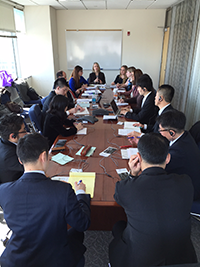 March 06, 2015 - Representatives of New York State's Interagency Task Force on Human Trafficking welcomed a delegation of Japanese officials Friday, March 6, to New York City to discuss New York's multi-agency approach for combatting human trafficking. The Japanese delegation is visiting the United States under the auspices of the U.S. Department of State's International Visitor Leadership Program.
The delegation consists of nine officials, representing four Japanese ministries, who are responsible for combatting trafficking. Their two-day visit to New York City is aimed at building on U.S.-Japan cooperation to combat trafficking in persons, as well as developing a better understanding about how multiple levels of government and law enforcement work together on these cases.
Representatives from the New York State Office of Temporary and Disability Assistance (OTDA), the Office of Children and Family Services (OCFS), and the New York State Department of State, took part in the meeting.
Human trafficking is the illegal trade or use of men, women and children against their will for the purpose of forced labor or sexual exploitation. While many cases of human trafficking go unreported, human rights advocates estimate 27 million people are trafficked worldwide, more than three-quarters of them women. The U.S. Department of Justice estimates that each year, nearly 18,000 people are brought into the United States and held against their will for the purposes of labor and sex trafficking.
OTDA Executive Deputy Commissioner Sharon Devine, co-chair of New York's Interagency Task Force on Human Trafficking, said, "We welcome the opportunity to share what we have learned as New York State has implemented a cross-agency approach that places an emphasis on accurately identifying cases of human trafficking from a law enforcement and human services perspective. We know there's much to gain from better understanding our Japanese colleagues' perspective, and look forward to developing an ongoing dialogue where we can learn from each other's experiences while working collaboratively where possible."
Michael C. Green, Executive Deputy Commissioner of the State Division of Criminal Justice Services, said, "A key mission at DCJS is to ensure that local law enforcement agencies have the resources, training and information, including best practices, to better serve their communities. The international exchange of information will only enhance efforts to combat a problem that crosses local, national and international borders."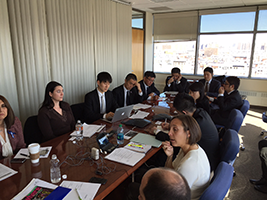 New York Secretary of State Cesar A. Perales said, "Human trafficking is a worldwide predicament with unspeakable consequences for its victims. We look forward to not only sharing and gleaning vital information with our colleagues from Japan to assist victims and eradicate this heinous crime, but also helping to bring global awareness to this crisis."
OCFS Acting Commissioner Roberto Velez said, "OCFS is thrilled to work with its counterparts across the world to put a stop to child trafficking, and our agency is honored to be a part of this task force, which continues to enhance our state's understanding of human trafficking so that we can put our resources to greater use in fighting it. A large number of trafficked individuals are children and youth, so OCFS is continuing its years-long work to identify youth vulnerable to trafficking, and provide services and training sessions for child welfare professionals. Working with our allies in other countries will only strengthen our fight against trafficking to give children and youth brighter futures."
In December 2014, Japan revised its national action plan for combatting human trafficking and created a ministerial-level interagency task force in order to improve identification and response efforts. This meeting, and others, is designed to help deepen Japan's understanding of how the U.S. approaches the issue from a law enforcement and victim's protection perspective.
Japanese agencies represented at the meeting include the Ministry of Justice, Foreign Affairs, Health, Labor and Welfare, and the National Police Agency.
New York State's Interagency Task Force on Human Trafficking consists of the Office of Temporary and Disability Assistance, the Division of Criminal Justice Services, Department of Health, Department of Labor, Department of State, Office of Alcoholism and Substance Abuse Services, Office of Children and Family Services, Office of Mental Health, Office for the Prevention of Domestic Violence, Office of Victim Services, Department of Agriculture & Markets, Division of Human Rights, and the State Police, which all work in cooperation with the Governor's Office. They are partners in educating the public on how to identify the signs of human trafficking, training local government and law enforcement officials on identifying individuals who may have been trafficked, proposing legislation to crack down on traffickers, and developing strategies for referring survivors to local support services.