OTDA Home About OTDA News & Public Information Press Releases Press Release
State Officials Travel to Oneonta to Promote New York's Veteran Programs
Assistance to Veterans Highlighted as Part of Capital for a Day in the Mohawk Valley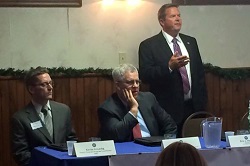 NYS Veterans' Affairs, Director Eric J. Hesse
August 24, 2015 – Representatives of Governor Andrew M. Cuomo's administration on August 20th helped spread the word in the Mohawk Valley about state programs that benefit veterans and listened to local leaders' ideas on how to ensure the success of those programs. Eric J. Hesse, Director of the New York State Division of Veterans Affairs, Kenneth E. Williams, Director of the Office of General Services Division of Service Disabled Veterans' Business Development, and Linda Glassman, Deputy Commissioner of the New York State Office of Temporary and Disability Assistance came to the American Legion in Oneonta as participants in the Governor's "Capital for a Day" initiative.
"Governor Cuomo is committed to working with local officials and business leaders to make sure the brave men and women who have served our country and state in the military will benefit from New York's Service-Disabled Veteran-Owned Business Act," OGS Commissioner RoAnn M. Destito said. "I am very proud the Governor chose OGS as the agency to administer the state's Division of Service Disabled Veterans Business Development and made it a priority to increase economic opportunities for veterans through state contracting."
"Governor Cuomo's Mohawk Valley Capital for a Day is creating a great opportunity for us to work with our county partners and stakeholders to ensure we are meeting the needs of all veterans," Director Hesse said. "The six counties that make up the Mohawk Valley are home to about 47,000 veterans, and we must work together to overcome any challenges that stand in the way of them gaining access to the services and benefits they have earned."
"Governor Cuomo recognizes the sacrifices made by our veterans and our agencies are committed to making sure they have the opportunity and support they need to be successful," said New York State Office of Temporary and Disability Assistance Commissioner Samuel D. Roberts. "Our Homeless Housing and Assistance Program is a key source of capital funding to construct supportive housing for individuals experiencing homelessness, including veterans, enabling them to have a safe, affordable place to live where they can easily access services to help address the issues that contributed to their homelessness."
Director Hesse asked local officials to discuss veteran services, partnership opportunities, improved coordination, and the state's Fresh Connect program, which was expanded to provide veterans, service members, and their immediate family with assistance to purchase fresh foods at local farmers markets.
Director Williams spoke about the successful implementation of the Service-Disabled Veteran-Owned Business Act and discussed the high potential regional impact of the program in the Mohawk Valley due to its proximity to Fort Drum. Williams also asked local officials to assist the state in promoting the program and its benefits to existing service-disabled veteran-owned businesses (SDVOBs) and veterans seeking to start businesses.
As of August 17, The Division of Service-Disabled Veterans' Business Development has certified 143 businesses in fields ranging from construction to financial services, as well as companies that sell a variety of commodities. State agencies and authorities have reported making 123 purchase orders and contract awards to State-certified SDVOBs.
The application for certification and information on the program is available online at www.ogs.ny.gov. Information on SDVOBs can also be obtained by calling (844) 579-7570 or sending an email to veteransdevelopment@ogs.ny.gov.
Information about the New York State Division of Veterans' Affairs and the services and benefits offered to veterans and their families can be found online at www.veterans.ny.gov. A toll-free information and referral hotline — 1-888-VETS-NYS (1-888-838-7697) — is available to refer veterans and their families to the nearest state veteran benefits counseling office.