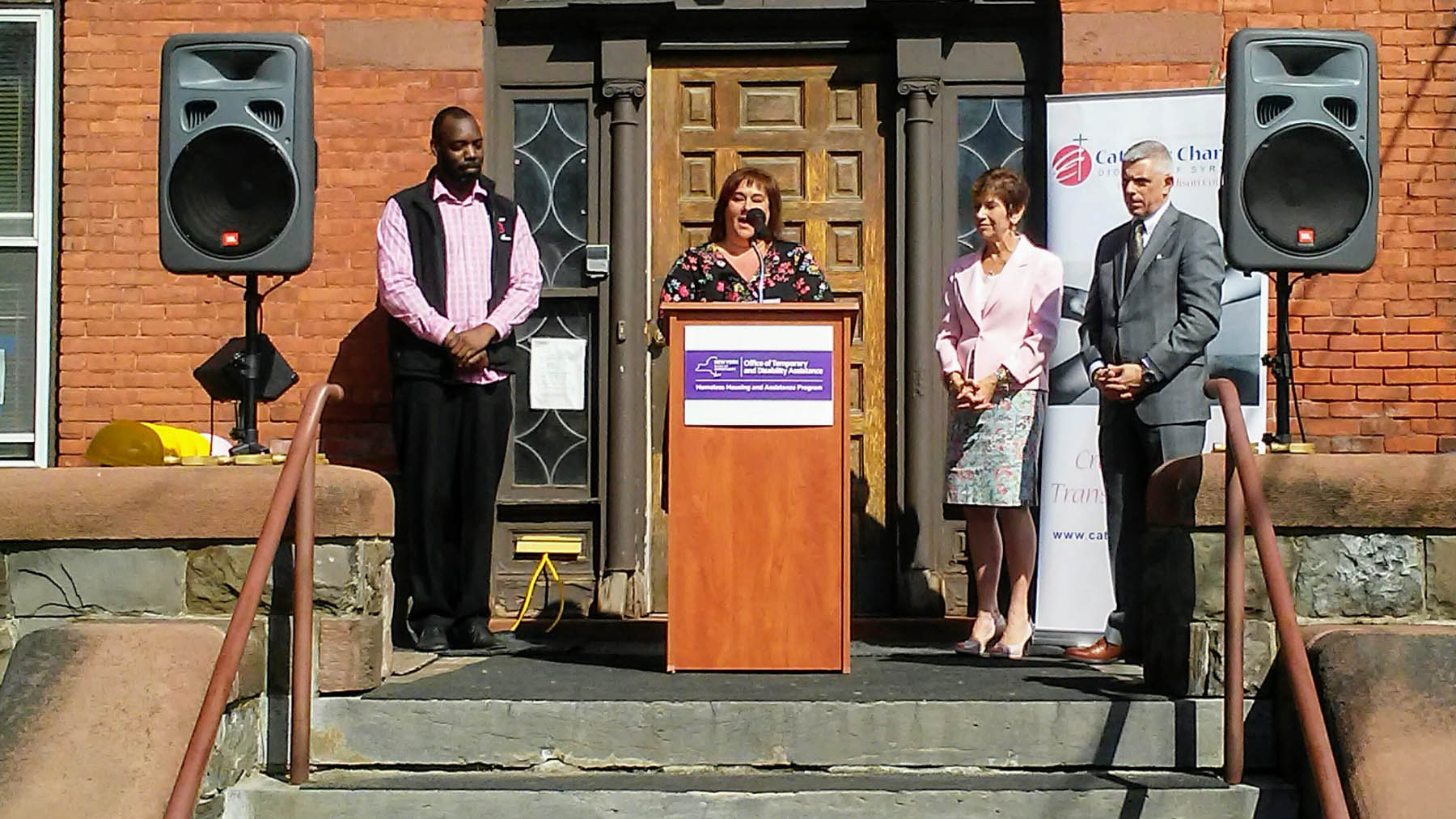 April 23, 2019
Office of Temporary and Disability Assistance Announces Groundbreaking of $2.3 Million Youth Shelter in Oneida County
'Grady's Way' to Provide Emergency Shelter and Permanent Supportive Housing for Adolescents
The New York State Office of Temporary and Disability Assistance (OTDA) today announced the start of construction on a $2.3 million project in Oneida County to provide emergency shelter for homeless male youth and permanent housing for young adult men who were formerly homeless. Funded through the state's Homeless Housing and Assistance Program, Catholic Charities of Oneida and Madison Counties is renovating an existing structure in Utica to include an 11-bed emergency shelter for teenage males and three units of supportive housing for young men.
"Homelessness can have a devastating effect on youth and impose formidable barriers to their future success," OTDA Acting Commissioner Mike Hein said. "Grady's Way will provide a safe place where adolescent boys and young adults can establish the stable foundation they require for success later in life. Our hope is that with this assistance, these individuals will be able to avoid cycles of poverty and realize their full potential."
The project relies on $2.2 million through the Homeless Housing and Assistance Program (HHAP), which is administered by OTDA, and $25,000 from the Community Foundation of Herkimer and Oneida Counties. The funding is being used to rehabilitate a building owned by Catholic Charities of Oneida and Madison Counties, which will operate the new facility.
Grady's Way is named after Grady Faulkner, a longtime parent liaison at the Utica City School District who recognized homelessness among teens in the community and approached Catholic Charities about establishing a shelter to help them. In addition to housing, the facility will provide life skills and job training, counseling, and academic assistance. The emergency shelter will serve male youth between the ages of 12 and 18. The facility also includes permanent supportive housing for young men between the ages of 18 and 24.
Rental assistance and funding for supportive services for the three permanent supportive housing units will be provided by OTDA through the Empire State Supportive Housing Initiative.
The project is part of Governor Andrew M. Cuomo's $20 billion Homelessness and Affordable Housing Action Plan, which is combating homelessness by building and preserving more than 100,000 units of affordable housing and 6,000 units of supportive housing.
"Youth and young adults who are homeless are highly vulnerable. In many cases they are fleeing neglect, abuse, or conflict in their homes due to sexual orientation or gender identity. Homelessness interferes with their education and development," said acting Office of Children and Family Services Commissioner Sheila J. Poole. "A facility like the one proposed for this site can provide needed stability and consistency and give youth a place where they are supported to develop life skills and work experience to place them on a path to success."
Catholic Charities of Oneida and Madison Counties Executive Director Denise Cavanaugh said, "I am asked frequently if homelessness among youth is really a problem in Utica, Oneida County and surrounding communities. I would love to say it is not, but we know our young people are couch surfing, sleeping under bridges, in abandoned cars and in condemned buildings. For those of us that slept in a warm spot with a roof over our heads last night, this is difficult to imagine. We are eternally grateful to Grady Faulkner who had the persistence to pursue this dream, and to HHAP and our funding partners who believed in it."
Project Founder Grady Faulkner said, "This project has been in the works for over 10 years. I am excited and proud to partner with Catholic Charities. The need is evident and through perseverance, dedication, and laser focus we are making it a reality for homeless youth in the Mohawk Valley. My hope is to have these qualities that have made this project happen weave their way into our programs to help the youth overcome adversity and move toward leading productive, community minded lives."