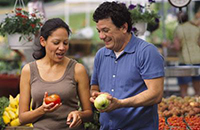 Agencies Highlight New and Existing Initiatives to Help New Yorkers Live Healthier Lives - Acting State Health Commissioner Dr. Howard Zucker and State Agriculture Commissioner Richard A. Ball today held a press conference in Rochester to commemorate National Nutrition Month in New York State. At the event, which took place at the Rochester Public Market, the Commissioners kicked off spring farmers' market season in New York and highlighted some of the initiatives offered by a number of state agencies to help New Yorkers live longer and healthier lives.
According to the Centers for Disease Control and Prevention (CDC), adults in New York are including fruit in their diet only once a day and vegetables one to two times a day. The U.S. Dietary Guidelines for Americans designed by the U.S. Departments of Agriculture and Health and Human Services recommends consuming five to nine servings of fruits and vegetables every day. Read more…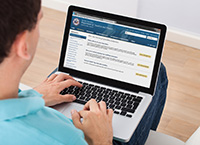 Appointments still available at Volunteer Income Tax Assistance sites prior to April 15th - Two state agencies joined with local organizations today to remind eligible New Yorkers there is still time to get free tax assistance at hundreds of locations across the state. In the three weeks remaining until the April 15 income tax deadline, half of New York taxpayers – 5 million individuals and families – will be filing their returns.
The New York State Office of Temporary and Disability Assistance (OTDA) and the New York State Department of Taxation and Finance also highlighted tax credits that can provide a significant financial boost to low-income working families. Read more…
March 5, 2015 - If you receive your State Supplement Program (SSP) benefits via direct deposit, please note that SSP payments for April 2015 will be deposited on March 24, 2015, rather than on April 1, 2015. This one-time payment schedule change is necessary to accommodate State Fiscal Year 2014-15 closeout activities. This does not change the payment schedule for Supplemental Security Income (SSI) or any other benefits issued by the U.S. Social Security Administration. Payments for recipients who receive paper checks are not impacted, and SSP checks will be mailed on the regular schedule. Please call the SSP Customer Support Center at 1-855-488-0541 between 8:30 am and 4:45 pm Monday through Friday if you have any questions.