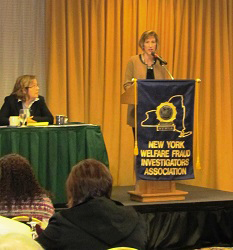 Nearly 500 Investigators Trained by OTDA since September - OTDA Commissioner Kristin M. Proud gave the opening remarks at the New York Welfare Fraud Investigators (NYWFIA) Regional Training seminar at the Albany Marriott, on October 22. NYWFIA works collaboratively with OTDA and the Office of Children and Family Services (OCFS) throughout the year to provide training and support for local social services district fraud investigators.
Commissioner Proud highlighted the important work and impressive results produced by the investigators in the last year. She emphasized the importance that Governor Cuomo's administration places on maintaining the integrity of our public assistance programs. Commissioner Proud also thanked the investigators for ensuring that public assistance benefits remain available to those citizens in need – and that public support of these programs continues. Read more…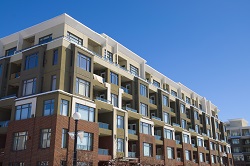 Funding to Help Homeless Families, Domestic Violence Victims and Veterans - Governor Andrew M. Cuomo today announced more than $40 million in funding for supportive housing projects to help homeless and low-income New Yorkers. The projects will provide a total of 276 units of supportive housing for homeless individuals and families, including survivors of domestic violence, veterans, youth, and adults with disabling mental health conditions.
"These organizations provide a vital public service and these grants will help them fulfill their incredibly important mission of helping homeless New Yorkers rebuild their lives," Governor Cuomo said. "The supportive housing programs offered by these groups are a proven way to bring stability and security to some of our most vulnerable residents and families and help to build stronger communities all across New York." Read more…
Most Recipients to Begin Receiving Two Monthly Payments Instead of One - The New York State Office of Temporary and Disability Assistance (OTDA) today reminded Supplemental Security Income (SSI) recipients that most will see a change in how they receive their monthly benefits beginning October 1, 2014. SSI provides financial support to eligible aged, blind or disabled individuals to help meet their basic needs. This change in program administration will not impact the SSI benefit amount someone receives.
What is changing?
Beginning October 1, eligible New Yorkers will receive two benefit payments instead of one payment. One payment will come from the U.S. Social Security Administration (SSA) and one payment will come from the New York State Office of Temporary and Disability Assistance (OTDA) SSI State Supplement Program (SSP). Recipients will continue to receive the same total amount each month and will continue to receive payments at the same time of the month and in the same way they currently do, either by direct deposit or check. Read more…