OTDA Home Resources for Working Families
Resources for Working Families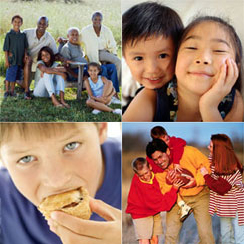 An online tool for New York State residents where they can check eligibility for multiple human services benefit programs and apply online for the Supplemental Nutrition Assistance Program (SNAP) and the Home Energy Assistance Program (HEAP).
A listing of Local Departments of Social Services by County
Information on nutrition programs that can help you feed your family healthy meals such as, Supplemental Nutrition Assistance Program (SNAP), School Breakfast and Lunch Programs, Summer Food Service Program, Women, Infants and Child program, Child Nutrition, Farmers' Markets Nutrition Program, and Food Banks in New York State.
EBT is the method by which the OTDA delivers cash and Supplemental Nutrition Assistance Program (SNAP) benefits to New York State's recipient population.
Information on energy programs that can help you heat your home and reduce your energy costs.
The child support program assists custodial parents in establishing paternity, and obtaining, modifying and enforcing financial and medical support obligations.
Find out how your local department of social services can help you pay for the cost of child care.
Information on tax credit programs you may be eligible for, such as Earned Income Tax Credits, New York State Noncustodial Parent Earned Income Tax Credit, Child Tax Credits and Child and Dependent Care Tax Credits.
VITA is a free, IRS-sponsored program to help low- and middle-income workers have their taxes prepared and filed electronically at no cost. VITA also ensures that workers receive all the tax credits to which they are entitled.
You and your family have many new low cost, quality health insurance options available through the Individual Marketplace. You can quickly compare health plan options and apply for assistance that could lower the cost of your health coverage. You may also qualify for health care coverage from Medicaid or Child Health Plus through the Marketplace.
ACCESS NYC, a free service that identifies and screens for over 30 New York City, State, and Federal human service benefit programs. You may use this service anonymously or you have the option to create an account.
The Social Security Disability Insurance and Supplemental Security Income programs provide assistance to people with disabilities. While these two programs are different in many ways, only individuals who have a disability and meet medical criteria may qualify for benefits under either program.
Unemployment insurance is temporary income for eligible workers who become unemployed through no fault of their own and who are ready, willing, able to work and have sufficient work and wages in covered employment.
Tools to assist you in training for a new job, writing a resume and finding a job.
Find affordable housing; avoid foreclosure, and more helpful tips.
Learn about the financial aid that can help you finance your education.
Register to vote or update the information you have on file with the Board of Elections or using your driver's license online through the New York State Department of Motor Vehicles.
If you ever served in the United States Armed Forces you are a veteran and you may be eligible for benefits.
Information to assist you with credit usage and counseling, debt collection and mediation and how to open a bank account.
Consumer protection information on, filing a consumer complaint, energy service companies, home heating, prevention and assistance with identity theft and much more.
The Navigator provides information and resources for caregivers who are taking care of a child who is not biologically their own child.
Information on New York State services and supports for individuals with autism.
The Lifeline Program provides a monthly discount on landline or wireless phone service to eligible low-income households.