OTDA Home About OTDA Executive Team Biographies
Donnovan Beckford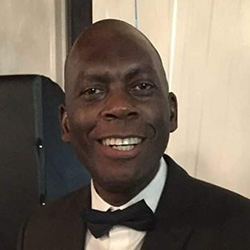 Donnovan Beckford is Deputy Commissioner of Disability Determinations, which oversees the processing of federal applications for the Social Security Administration's Social Security Disability Insurance and Supplemental Security Income. Prior to joining OTDA, he was CEO of WestCOP, a not profit community action agency, that provides a wide variety of programs and services that address poverty and the root causes of it. He also served as the Executive Director of the Westchester Putnam Workforce Development Board, responsible for the public workforce systems in both counties.
Donnovan has an MBA from Zicklin (Baruch) School of Business and a BA from Lehman College in Computer Science and Economics.
Rajni Chawla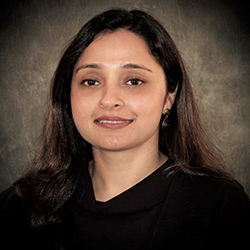 Rajni Chawla is Deputy Commissioner of Audit & Quality Improvement, which is the audit and investigative arm of the agency and is responsible for ensuring that OTDA meets its supervisory responsibilities over the administration of its programs.
Prior to being appointed to her current position, Rajni served as Director of Internal Audit at the Office of Information Technology Services which is responsible for providing statewide IT strategic direction, directing IT policy, and delivering centralized IT products and services that support the mission of the state. Rajni also worked as the Director of Internal Audit at the New York State Department of Labor. Prior to joining state service, she worked for the private sector in numerous capacities.
Rajni received her Bachelor of Laws and Bachelor of Commerce from the DAVV University, India. She is also a Certified Public Accountant, Certified Internal Auditor, and Certified Information Systems Auditors.
Cheryl Contento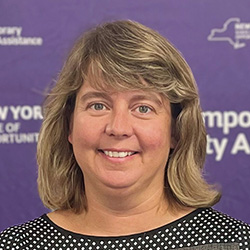 Cheryl Contento is Deputy Commissioner of Shelter Oversight and Compliance, which is responsible for the regulation of all publicly funded emergency homeless shelters in New York State. Prior to joining OTDA, she worked at the Workers' Compensation Board and was the Deputy Commissioner for Albany County's Department of Children, Youth and Families. Cheryl has worked in state and local government for the past 25 years and has had a particular interest in protecting the rights of vulnerable populations.
Kenneth Wells-Crannell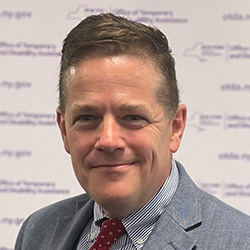 Kenneth Wells-Crannell is Deputy Commissioner of External Affairs, which includes the Division of Administrative Hearings, Office of Legislative Affairs and the Public Information Office. He has over 30 years of public policy and management experience having served extensively in county governments across New York State prior to joining OTDA.
Ken received his Master of Public Administration from the Rockefeller College of Public Affairs and Policy and earned a bachelor's degree from the State University at Albany.
Valerie T. Figueroa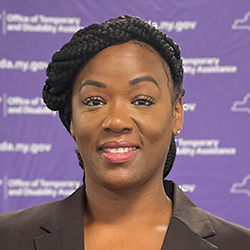 Valerie Figueroa is Deputy Commissioner of Employment and Income Support Programs, which is responsible for the development, implementation and oversight of policies and procedures related to state and local social services district administration of numerous mission-critical programs including Temporary Assistance, Supplemental Nutrition Assistance Program, Home Energy Assistance Program, Employment Advancement Services, and State Supplement Program. She has over 20 years of experience in management, homelessness, transitioning families into permanent housing, and social services. Valerie previously served as Executive Director for Settlement Housing Fund, Inc., which is responsible for creating and sustaining high quality programs including temporary housing, affordable housing, education, employment and wellness.
Valerie studied at The School of Business, Public Administration, and Information Sciences at Long Island University Post where she received her Master of Public Administration and Bachelor of Business Administration.
Logan N. E. Joseph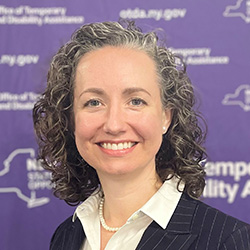 Logan Joseph is Deputy Commissioner of Strategic Operations, which is responsible for coordinating the agency's portfolio of information technology projects, as well as the agency's participation in the Integrated Eligibility System, an interagency initiative to integrate New York State's health and human services systems. She also oversees OTDA's Internal Controls Program and Process Improvement (i.e., Lean) Program. Logan has served in a number of different roles at OTDA over the years, including as a Special Assistant in the Executive Office and as the Human Trafficking Program Manager in the former Bureau of Refugee and Immigrant Assistance.
Logan is an attorney and social worker. She is a graduate of the State University of New York (SUNY) at Buffalo Law School, SUNY at Buffalo School of Social Work, SUNY College at Geneseo, and Hudson Valley Community College.
Renee Nowicki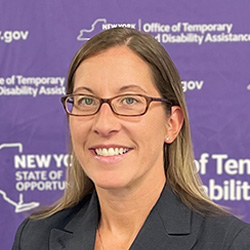 Renee Nowicki is Deputy Commissioner of Budget, Finance, and Data Management, which is responsible for overseeing all aspects of the agency's budget and financial operations, coordinating all purchasing and procurement activities, providing guidance and training to local social services district fiscal staff, producing statistical and financial reports, and conducting fiscal and data analyses, programmatic evaluations, and research.
Prior to joining OTDA, she worked for the New York State Division of the Budget.
Renee received a Master of Public Affairs and Policy from the University at Albany, Rockefeller College of Public Affairs and Policy, and a Bachelor of Arts in Sociology from the State University of New York at Geneseo.
Tiffinay M. Rutnik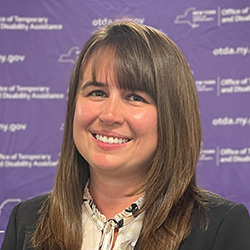 Tiffinay Rutnik is General Counsel to OTDA. She oversees the Division of Legal Affairs, which is responsible for establishing and interpreting legal policy for the agency and for providing legal advice and counsel to OTDA's program and administrative support divisions. Prior to being appointed to her current position, Tiffinay served in other roles within Legal Affairs. Prior to her time at OTDA, she worked for the Office of the New York State Attorney General and the County of Albany.
Tiffinay holds degrees from the College of the Holy Cross and Albany Law School.
Eric Schwenzfeier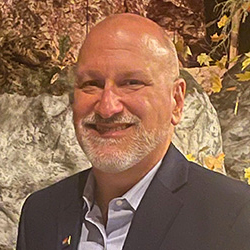 Eric Schwenzfeier is Deputy Commissioner of Administrative Services, which oversees the bureaus responsible for providing agency administrative and operational support services including human resources, training and development, office services, facility management and space planning. Prior to joining OTDA, he was the Director of Human Resources for the New York State Office of the Attorney General and has also held senior-level administrative positions in the private sector, including serving as Director of Human Resources for Saratoga Hospital immediately prior to joining New York State.
Eric holds a Master of Business Administration degree in Human Resources Management from Clarkson University and a Bachelor of Science degree in Business Economics from the State University of New York at Oneonta.
Samuel L. Spitzberg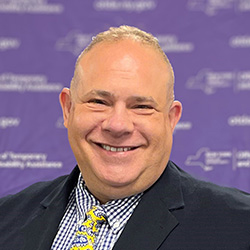 Samuel Spitzberg is the Associate Deputy Commissioner of Administrative Hearings, which presides over fair hearings for applicants and recipients of numerous social services benefit programs. Prior to joining OTDA, Sam worked at several state agencies with increasing responsibility including General Counsel for the New York State Division of Veterans Services. Sam is a veteran of the U.S. Army with service in Iraq; he continues working with veterans.
Sam is a graduate of the State University of New York at Albany with a Bachelor of Science in Accounting and received his J.D. from Hofstra University.
Eileen M. Stack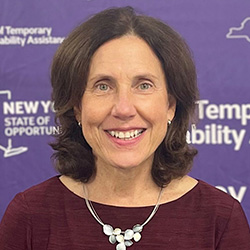 Eileen Stack is Deputy Commissioner of Child Support Services, which helps parents with obtaining financial support and medical insurance coverage for their children by locating parents, establishing parentage, establishing and modifying child support orders, and collecting and distributing child support payments. Her duties also include overseeing the federal grant funding for access and visitation programs and the hospital-based paternity program that provides unmarried parents with an opportunity to establish parentage at the time of the child's birth. Prior to her current position, she served as Deputy General Counsel with OTDA.
Eileen graduated from the State University of New York at Albany and earned her J.D. from Albany Law School.
Richard Umholtz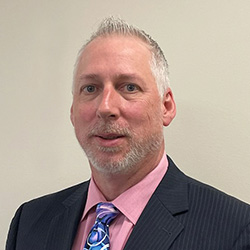 Rick Umholtz is Deputy Commissioner of Housing and Refugee Services, which administers housing-related programs targeted to individuals and families experiencing homelessness as well as programs for refugees, repatriated American citizens, and victims of human trafficking.
Prior to being appointed to his current position, Rick was the Director of the Bureau of Housing and Support Services, providing oversight to an array of programs serving homeless, at-risk, and low-income households and oversaw several initiatives designed to assist localities develop individualized, coordinated approaches toward addressing homelessness. Before joining OTDA in 2000, Rick worked in the nonprofit sector, first for an agency that provides services to homeless youth and then as director of residential programs serving individuals with disabilities.
Rick received a Bachelor of Arts in Mathematics from the College of Saint Rose.