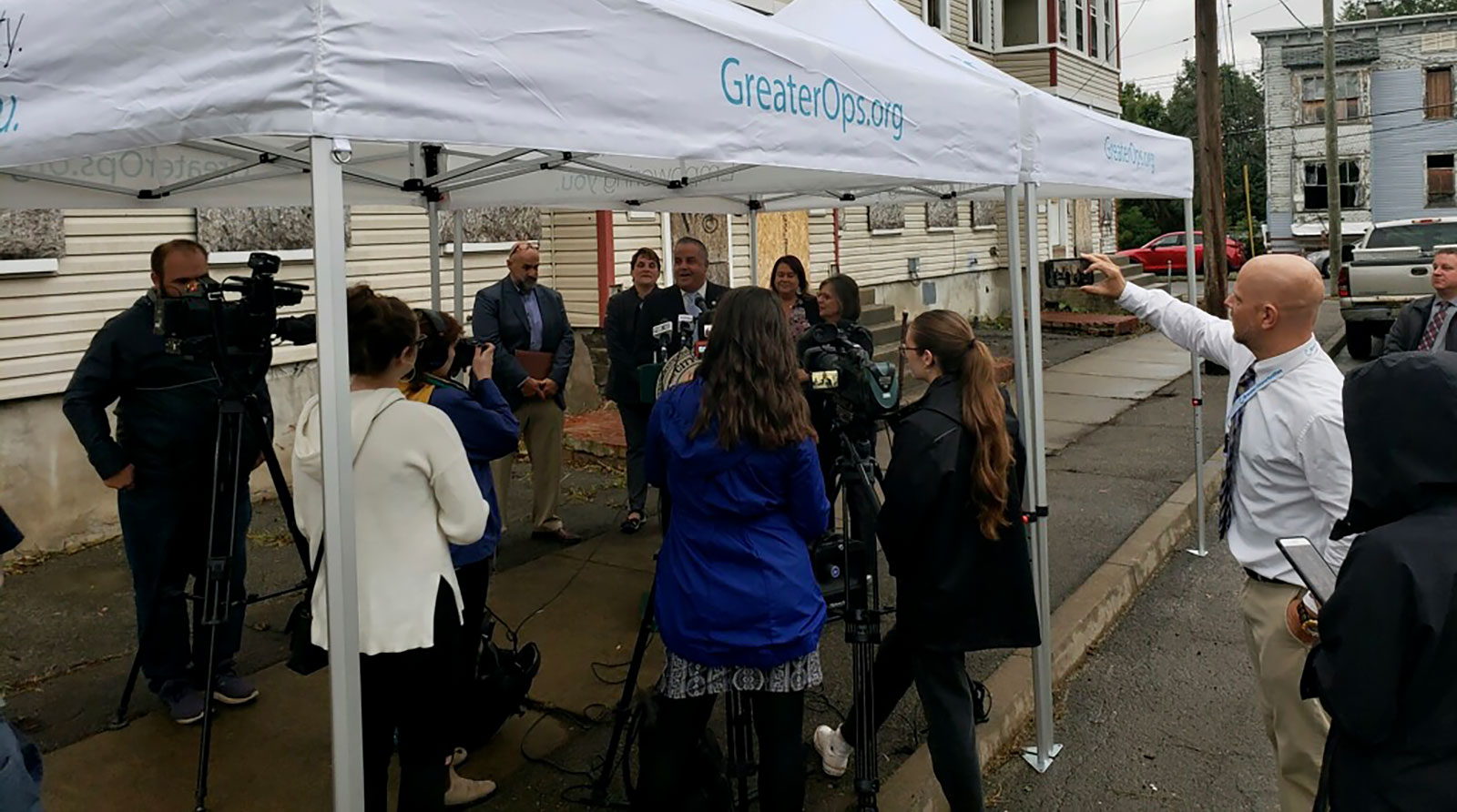 September 28, 2021
New York State Announces Groundbreaking for $8.1 Million Supportive Housing Development in Broome County
Rehabilitation of Four Sites in Binghamton Will Provide 27 Units of Permanent Supportive Housing
State's Homeless Housing and Assistance Program Providing $7.5 Million for the Project
The New York State Office of Temporary and Disability Assistance (OTDA) today announced that construction is underway on Greater Opportunities for Broome and Chenango's North Side Rehabilitation Project, an $8.1 million development that will create 27 units of permanent supportive housing across four sites in Binghamton. Funded through OTDA's Homeless Housing and Assistance Program, the project will serve people who have experienced homelessness, including those with serious mental illness, people who were formerly incarcerated, veterans, young adults and youth aging out of foster care.
"The causes of homelessness are complex and addressing the varied issues that lead to families and individuals experiencing homelessness requires a comprehensive approach," said OTDA Executive Deputy Commissioner Barbara C. Guinn. "Greater Opportunities for Broome and Chenango's North Side Rehabilitation Project, and others like this, play an important role in our efforts to address homelessness and we are grateful for Governor Hochul's ongoing support."
The construction includes a gut rehab of the buildings; all interior finish materials and trim; electrical, plumbing and heating systems; window sashes; exterior demolition and the development of 27 new permanent supportive apartments. The project is creating a mix of larger apartments to meet the need for larger family units in Broome County, along with smaller apartments for individuals with disabilities.
The locations of the sites and the numbers of units being constructed at each are:
39-49 Munsell Street, 18 units
22 Moffat Avenue, three units
22 Way Street, four units
4 Sturges Street, two units
Funding for this project includes $7.5 million from the Homeless Housing and Assistance Program and more than $540,000 from the city of Binghamton. Operating funding will be provided by the Empire State Supportive Housing Initiative through OTDA.
The Homeless Housing Assistance Program provides capital grants and loans to not-for-profit corporations, charitable and religious organizations, and municipalities to acquire, construct, or rehabilitate housing for persons who are unable to secure adequate housing without special assistance. The grants are awarded through a competitive process by the New York State Homeless Housing and Assistance Corporation, a public benefit corporation staffed by OTDA.
So far this year, the program has allocated nearly $25 million to eight projects that will create or preserve 213 units of supportive housing and repair emergency shelters throughout the state. Last year, the program provided funding to 30 projects that will add 881 units of supportive housing and repair emergency shelters.
Senator Fred Akshar said, "Safe, stable and affordable housing is an essential step in helping break the cycle of poverty and helping those in need in our community get back on their feet, back into the workforce and onto the path to success."
Assemblywoman Donna Lupardo said, "The homeless and most vulnerable in our community often live in the shadows without the assistance they need. Because of this, permanent supportive housing has always been the goal of our advocacy at the local and state level. I'd like to thank OTDA and the City of Binghamton for their support of this very worthwhile project, and to Greater Opportunities for Broome and Chenango for their vision."
Broome County Executive Jason Garnar said, "There is an ongoing need for housing in Broome County, so this latest project in our efforts to address this issue is welcome news. A safe place to live, along with critical supportive services, is the first step to getting many people in our community back on a path to success. I appreciate the Governor's and OTDA's commitment to combatting homelessness locally."
Binghamton Mayor Richard C. David said, "Every person deserves a safe place to call home. This project will rehabilitate four blighted properties on the North Side, including one of Binghamton's most notorious eyesores, to create much-needed supportive housing for families and individuals facing homelessness. My thanks goes to Governor Hochul, OTDA and our partners at Greater Opportunities for their commitment to this project and their partnership with the City of Binghamton."
Greater Opportunities for Broome and Chenango CEO Mark Silvanic said, "The process of working toward this milestone started in 2019 and has been riddled with delays caused by the COVID-19 pandemic. I am thankful that this day is finally here. Binghamton is in need of more safe and affordable housing. The timing could not be better. I am thankful for the hard work put in by all of our partners on this project, including the Homeless Housing Assistance Program, the Empire State Supportive Housing Initiative, and the City of Binghamton."